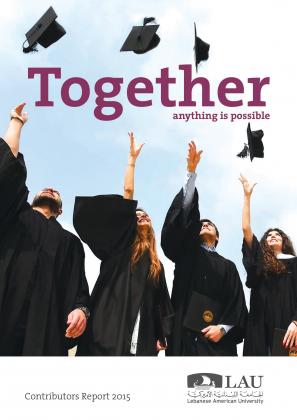 During the Fiscal Year 2015—October 1st 2014 to September 30th 2015—and through 1,229 donations, the university received gifts totaling over $21.3 million.
LAU channeled these resources into several important areas. It provided an unprecedented amount of financial aid and scholarships to students. It increased its level of recruitment of renowned faculty. It launched additional degree programs that help meet the demands of today's job market. And it established cutting-edge facilities across both campuses, as well as several other initiatives that enrich students' experience at the university.
The university's fundraising efforts also allowed the institution to make good on its Fulfilling the Promise campaign to raise $100 million dedicated to academic excellence. In fact, by the end of the 2015 fiscal year, the funds raised for the campaign stood at $98 million—just $2 million shy of the campaign goal one year before its scheduled close.
We invite you to read the full 2015 Contributors Report available at: http://publications.lau.edu.lb/contributors-report/contributors-report-2....