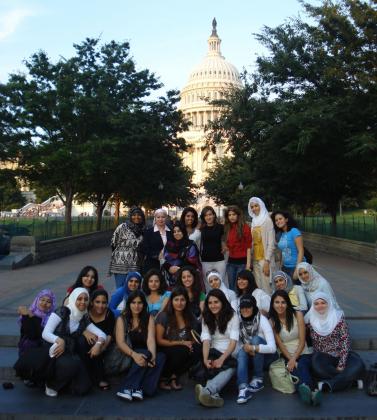 Why it is important
LAU is fortunate to have extraordinary strengths in a number of curricular and extra-curricular areas. For example, the Institute for Women's Studies in the Arab World is an international leader in promoting women's rights, while two institutes on campus have outstanding credentials in the areas of conflict resolution, mediation, and peace studies. We also reach out into the broader community through our creative and performing arts programs, as well as through our Model United Nations and Model Arab League initiatives – just to name a few examples.
Our Strategic Plan 2011 – 2016 recognizes these strengths and calls for us to further build on these programs, in order that we can serve not only our students but also form bonds with those who live around us in Beirut, Byblos, as well as in all of Lebanon and the region.
Our Goal: $6,000,000
Using the renown and resources of our Institute for Women's Studies in the Arab World, we are in the process of integrating gender-related studies across our undergraduate curriculum, as well as instituting a Master's Degree in Gender Studies. These two initiatives will firmly secure LAU's standing in the forefront of this important field and identify us as the leader in women's rights and gender equality across the Middle East.
We would welcome donor support for an annual university-wide conference on gender studies, a guest speaker series, and research funds. Endowments and annual support are needed. 
Water shortages, desertification, and overall environmental sustainability are matters of critical importance in this region of the world.  Several schools within the University offer courses addressing these, and other, environmental issues. Building on these courses, our vision is to integrate a "green curriculum" across the University, leading to complementary courses, coordinated research, and a new degree in Environmental Studies. Closely linked to this initiative is our desire to create a "green campus" featuring state-of-the-art designs that ensure environmental sustainability of our buildings.
Donors with a passion for preservation of the environment have opportunities to provide scholarship support for outstanding students, either as permanent endowments or annual support. We also need endowed professorships and faculty support in the form of research funds.
Eleanor Roosevelt once said, "It isn't enough to talk about peace. One must believe in it. And it isn't enough to believe in it. One must work at it."  LAU is fortunate to have two dynamic, regionally recognized institutes that are working at peace:  the Institute for Peace and Justice Education and the Institute for Democracy and Conflict Transformation. The university's Strategic Plan calls for us to capitalize on our leadership role in this field.  Our vision includes a graduate-level program, the integration of conflict resolution courses across the undergraduate curriculum, international student exchange opportunities, and faculty/ student research initiatives.
Donor support is needed to support practical, hands-on programs in this field, as well as to provide research funds and scholarship support for degree-seeking students.
Unique to LAU is the Office of Civic Engagement. Created less than two years ago, this office is already engaging more than 800 students in community outreach programs, and that number continues to grow rapidly. OCE's crown jewels are the Model United Nations program and the Model Arab League programs, both of which involve many of our students and bring hundreds of Lebanese high school students to campus.
We also have more than a dozen active centers and institutes on campus that each year offer programs, conferences and lectures on a broad range of topics that draw both local and international participation and give LAU visibility far beyond our campus gates.
LAU also touches the community through our creative and performing arts programs.  Each academic year, on-campus performances and exhibitions attract hundreds of our Beirut and Byblos neighbors. However, of particular concern to us are the absence of facilities for such disciplines as dance, and the deterioration of existing performance venues. Plans exist for modern facilities in the new School of Arts and Sciences building, but in the meantime our creative and performing arts programs need additional financial support.
Important endowment opportunities exist for donors who wish to support a particular institute or center, underwrite our program in the arts, sponsor annual exhibitions and performances, or provide funds that will allow OCE to expand its outreach programs.